Sublime Dharma: A Compilation of Two Texts on the Great Perfection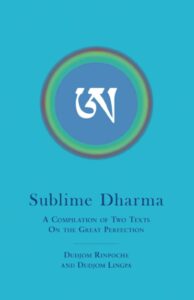 Sublime Dharma: Quintessential Instructions on the Breakthrough and Direct Crossing-Over Stages of Dzogchen is a compilation of two works composed by two of the greatest Dzogchen masters of Tibetan Buddhism in recent history, Dudjom Lingpa (1835–1904), and his subsequent incarnation, Dudjom Rinpoche (1904–1987). Text One of Sublime Dharma consists of the complete translation of Dudjom Lingpa's The Foolish Dharma of an Idiot Who Wears Mud and Feathers for Clothing, a mind treasure (Tib. dgongs gter) from his collected works, which presents the view, meditation, and conduct of the breakthrough (Tib. tregchö) phase of Dzogchen practice. Text Two consists of a partial translation of Dudjom Rinpoche's The Wish-Fulfilling Gem of Siddhis: A Manual on the Two Stages of the Heart Drop of the Profound Path of the Dakinis, from volume Ma of his collected works. This second text includes a concise summary of the breakthrough followed by a complete explanation of the direct crossing-over (Tib. thögal ) phase of Dzogchen practice.
 Randomized Controlled Trial of the Tibetan
Buddhist Feeding Your Demons Contemplative
Process in Meditation Practitioners
Journal of Emotion and Psychopathology 90
2023, Vol 1, Issue 1, 90-103
https://doi.org/10.55913/joep.v1i1.11
Q&A: Yoga teacher Chandra Easton on disappearing, the Tibetan language, and the Dalai Lama
Claire Heisler sits down with yoga teacher Chandra Easton to discuss yoga, Tibetan language and studying in Dharamasala.
Chandra Easton describes her religious upbringing as Tibetan Buddhist with an appreciation for the teachings of Jesus and all the world religions. Easton began formally studying Tibetan Buddhism in 1996, in Dharamsala, North India, at the Library of Tibetan Works and Archives, founded by H. H. the Dalai Lama. While there, she also studied the Tibetan language, and meditation.
"What makes an action good or bad? Not how it looks, nor whether it is big or small, But the good or evil motivation behind it." –Buddhist saying. In Tibetan lore there is a well known and well loved character named Geshe Ben, a

Renew - v. v.tr. To make new or as if new again; restore: renewed the antique chair. To take up again; resume: renew an old friendship; renewed the argument. To repeat so as to reaffirm: renew a promise. To regain or

The 8th Century Tantric Buddhist adept, Padmasambhava, said, "If you want to know your future, look at your present; if you want to know your past, look at your present." Essentially he is saying that we should not get wrapped

For mothers, especially new mothers, the magazine is the pulp of choice because of its quick and short articles, bits of information that we can gobble up while drinking our morning tea or nursing. After having my second child nine

For mothers, especially new mothers, the magazine is the pulp of choice because of its quick and short articles, bits of information that we can gobble up while drinking our morning tea or nursing. After having my second child nine