Dorje Lopön
Chandra Easton
Dorje Lopön Chandra is a teacher, author, and translator of Tibetan Buddhism. She is the lead senior teacher at Tara Mandala Retreat Center, founded by Lama Tsultrim Allione.
In 1996, Lopön Chandra studied Buddhism and Tibetan language at the Library of Tibetan Works & Archives in Dharamsala, India, founded by H.H. Dalai Lama. She later received her degree from UCSB's religious studies department at which time she co-translated Sublime Dharma, A Compilation of Two Texts on the Great Perfection, published by Vimala Publishing, 2012.
From the very beginning of her Buddhist studies, Lopön Chandra recognized the profound need to bring forth the voice of the empowered feminine in Buddhism. Due to this, in 1999 during her first pregnancy, she met and then later began to study with Lama Tsultrim Allione,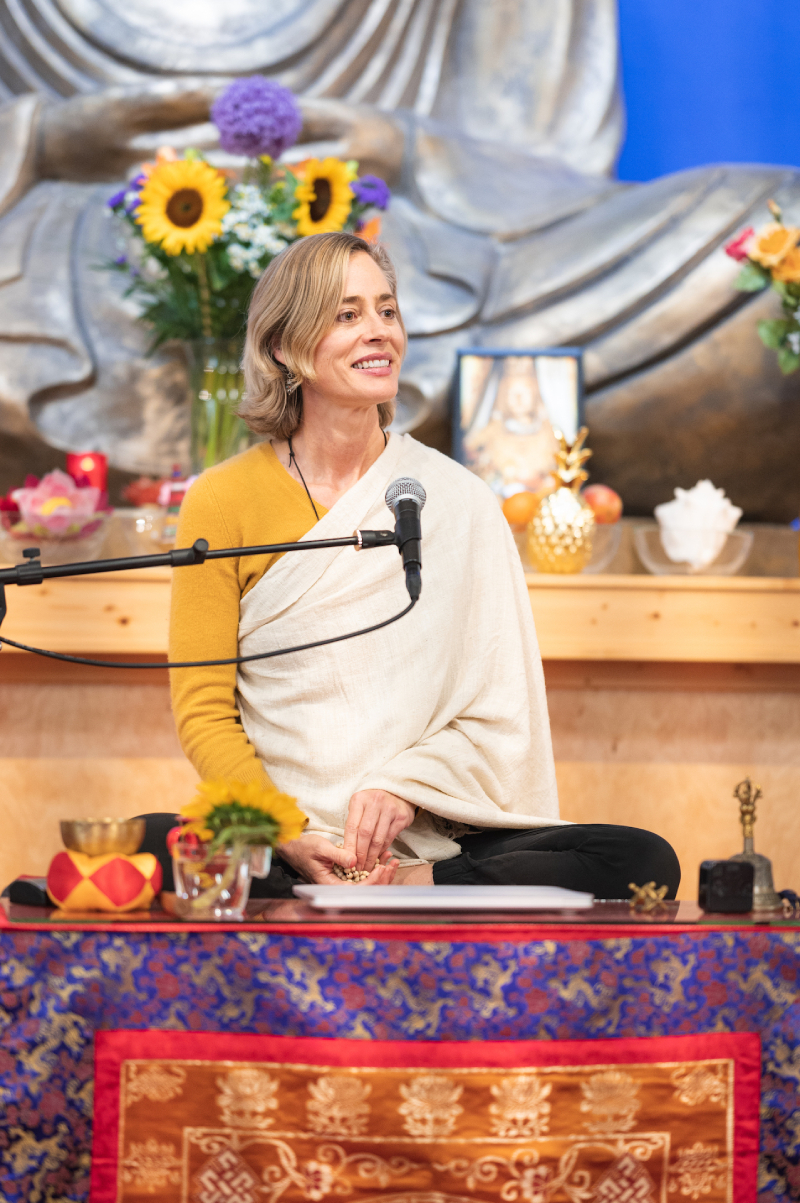 pioneering female Buddhist teacher, national best selling author, and founder of Tara Mandala Retreat Center.
While her training is rooted in Tibetan Buddhism (Mahayana and Vajrayana) and Dzogchen (Great Perfection) in particular, her primary interest is in finding ways to make these traditional teachings relevant and accessible for our modern experience. She is currently writing a book on the twenty-one Taras for the twenty-first century to be published by Shambhala Publishing in the fall of 2023.
She serves on the Tara Mandala Board of Trustees, the Equity, Diversity & Inclusion Council, Prajna Council (Tara Mandala Guiding Teachers), develops programs and curricula for Tara Mandala, as well as teaches nationally and internationally.
Read More
Embodying Tara
Book is now available for pre-order!
Realize the power of Tara, the Buddhist goddess of compassion, within yourself in this modern guide to her 21 forms.
Explore down-to-earth meditations and stories of real women who embody Tara's qualities.
Find out how important women and movements in modern history have achieved this through their own embodiment of Tara's enlightened activities. The stories of Jane Goodall, Nawal El Saadawi, Oprah Winfrey, Vandana Shiva, Black Lives Matter, Me Too, and others will inspire you to bring these aspects of Tara into the world in creative and socially conscious ways for the benefit of all.
Order From Amazon
Order From Bookshop
Order From Barnes and Noble